You will find nothing in writing, no signs. You hear it only through the grapevine. You have to be a part of the crowd to know about these meeting places. More than anything else, you have to be young.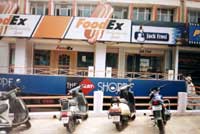 In Vizag, as in other cities around the world, there are places; there are 'joints' where the young 'hang out'. In some of these places, they are there to be seen, in some because they enjoy being there.
So what brings these people here? Probably the need to be with people of the same age sharing similar concerns and interests, checking out the opposite sex or just having fun away from watchful eyes could be yet another.
The managements of some of these hangouts show their displeasure. The smart ones however, (snooker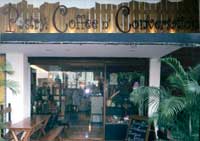 parlours, coffee shops, discotheques) capitalize on this need and go all out to cater to them. Some of them (such as FoodEx, the beach road on Sunday evenings) don't make older people feel out of place and so have a mixed crowd. Some (such as the weekend discos) do. Some are expensive, some are free.
Some are not meeting grounds of the young exclusively. The Beach Road is one of them. Then there are places where the family goes together (such as Waltair Club) to split up shortly thereafter. The parents fool themselves that no mischief can be done here, while their hormone-charged offspring are up to no good.
Food joints like Food Ex, Jack Frost, Music Café, 4 Seasons, Pastry Coffee & Conversations, Quick Bite,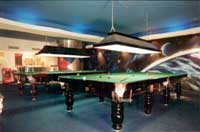 etc. are usually the places preferred. They get most of their dates here, far from the madding parents.
Music Café is one such place with the latest in music and food as an extra. It has a "Karaoke Bar" for budding and wannabe singers. They also have something called the 'Black Box' that is a dance held only for couples or only males / females or for only kids. They have a local DJ who plays for their Discos'. Then we have a new place in town called Pastry, Coffee and Conversation.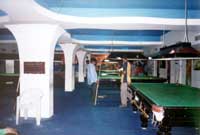 Snooker/Pool parlours are the domain of young males only with the odd female keeping them company. Planet Q, Rodeo, Yankee Club, etc are few of the many snooker parlours in Vizag. When asked about this, they confirmed that to them snooker parlours were a 'man thing'. The guys come here with their friends to play a game, maybe smoke a couple of cigarettes, have a coke, just enjoy the music and relax. Planet Q with its great looking interiors and nine snooker tables has enough room for all snooker lovers. 'Rodeo' with its rustic western look also attracts many guys who swear by their loyalty that it is one of the best snooker places in Vizag. It appears that more than the love for the game, the company and the atmosphere are what bring these young men here. Yankee Club is also one of the places on the hangout list. With Video Games, snooker tables, Internet zone and a dance room, they have also attracted a lot of crowd from the colleges and the schools. The crowds in these hang out places feel that they have everything, the ambience, the music and the crowd.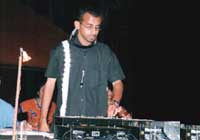 Apart from all these regular hangouts when the weekend comes, it is Dancing time. The Park and The Taj organize discos' every Saturday night. The Park, with its DJ Ravi Chris Leon, playing Trance and Techno, has created a style of its own. With other places playing only commercial numbers they say that they wanted to create a new trend of music. The regular Saturday Nite Fever is held in their pub called "Someplace Else". The Taj's Lawson's Lounge is the place to be to experience DJ Bapsi with his fun-loving and foot tapping numbers on all Saturday nights.
Rather than frown upon this trend, 'oldies' could learn a few things from it. At these places, no judgments are made; few distinctions are made on the basis of social status. And most importantly, friends are made here - something older people have forgotten how to do.
So, where do you want to hang out??