Nationally famous institutes of Hotel Management are located at Pusa in Delhi and Dadar in Mumbai, besides the PAI Institute in Manipal. Institutes in Vizag offering the course include the Coromandel Institute of Hotel Management and the Indo-American Institute of Hotel Management. Most of these institutes have an entrance test comprising papers on Test of Reasoning, English, Numerical Ability and General Knowledge.

The courses available at the Coromandel Institute, Visakhapatnam include a Four-year Diploma in Hotel Management and Catering Technology, a Three-year Diploma in Hotel Management and Catering Technology and One-and-a-half year craft courses each in Food & Beverages Services, Food Production, Front Office Management besides Certificate courses of the Internationally Renowned American Hotel and Lodging Association (AH & LA).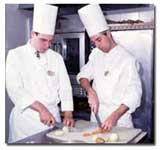 The core subjects taught there include Food and Beverages Service, Food and Beverages Production, Front Office Operations, Housekeeping, Principles Of Management, F & B Service Management, Tourism Management, Hygiene and Sanitation, Computer Basics, Hotel Accounts and Hotel French, the last subject lending the course an international dimension.
An increasing number of students taking courses in Hotel Management feel that there is a scope for doing something new all the time. This is the kind of job for those who can withstand a tough schedule with a smiling face. Toppers, even those selected as hotel operations trainees could earn up to Rs 6,500 per month and could rise to the position of a General Manager to earn about Rs 80,000 per month.
But it is not the mere lure of money that pulls people to Hotel Management institutes - there is also an element of job satisfaction in it.
With the boom in the Service Sector (such as call centres and insurance industry) which call for 'people skills' and employees with a service-oriented attitude and training, hotel employees are in great demand and are being 'poached'.