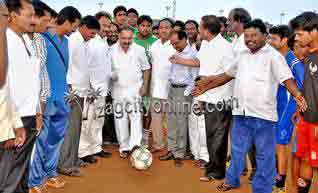 Making Indira Priyadarshini Municipal Stadium available for sport after a gap of nine years, Government Whip Dronamraju Srinivasa Rao on Tuesday inaugurated the renovated stadium.

Mr. Srinivasa Rao said about 60 to 70 per cent of the work was completed and the remaining would be completed in the next two-three months. District Football Association president Y. Raghuram participated.

The stadium had been given to accommodate CRPF personnel who came on election duty in 2005. Over a period of time it had come totally under their control and the cricketing activity also shifted to PM Palem with a new stadium coming up there.

GVMC had begun its efforts to take control of the stadium in 2009. Successive commissioners since V. N. Vishnu have taken up the issue writing to the Principal Secretary, MA and UD. The process was pursued by B. Ramanjaneyulu and M. V. Satyanarayana, the incumbent commissioner.

A year ago the CRPF personnel were provided alternative accommodation at Prahlada Kalyanamantapam paving the way for renovation and other works to begin.

According to Zone Commissioner Y Srinivasa Rao, renovation work has begun at a total cost of Rs.5 crore, with GVMC and VUDA sharing the cost equally. Fencing, work inside the stadium, toilets and players' accommodation etc are taken up by GVMC. The VUDA is constructing the pavilion and rooms for various associations.

A 400-metre track will be laid at the stadium. About 27 to 30 events including hockey, football, kho-kho and cricket can be played once the work is completed.