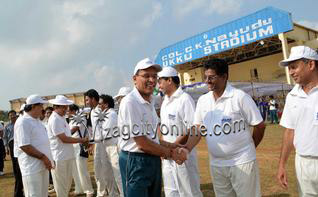 Cricket is not just about competition. It also helps members of both the teams build bonds, crossing all borders.

The bonhomie was evident at the Col. C.K. Nayudu Ukku Stadium in Ukkunagaram on Sunday morning, where officials of the East Coast Railway, Waltair Division, and the Rashtriya Ispat Nigam Limited (RINL) got together to battle out a friendly Twenty20 cricket match between DRM XI and Director (Commercial) XI.

The two entities have a great deal of interaction at the official level. The RINL is dependent on the Railways for both supply of raw material as well as to ship out its products. For the Railways, the RINL is a major customer.

Leading from the front were Divisional Railway Manager Anil Kumar and RINL Chairman-cum-Managing Director P. Madhusudhan.

After the ceremonial toss and introduction of teams, Mr. Madhusudhan freed his arm by bowling a few test balls to Mr. Anil Kumar and showed that he was not a walkover.

Mr. Anil Kumar opened for the Railways and found himself facing Mr. Madhusudhan bowling his full length slow medium pace. The third ball went through his gate and the DRM found the stumps rattled. The next batsman scored at will off the CMD's next over.

The CMD retreated to the pavilion and parked himself next to his opponent and both the sport lovers thoroughly enjoyed the ongoing game. All through the match, the officials of both the teams were busy discussing the score, and it needed some effort to realise that they were from the opposing teams.

The match would go a long way in clearing differences and misunderstandings between the officials and staff of the two entities, RINL Director (Commercial) T.K. Chand explained.

In the end, cricket was the winner, with both the teams going home tired by the workout, but very happy with the interaction.

ECoR and RINL battle it out in a friendly T20 match and, in the end, cricket is the winner
DRM XI, representing the Waltair Division of the East Coast Railway, beat Director (Commercial) XI of the RINL at the friendly Twenty20 cricket match.

The DRM XI scored 133 runs for 7 wickets in 20 overs and the DC XI managed to score 102 runs, losing 5 wickets in the allotted overs.

CMD of RINL P. Madhusudhan thanked the railway authorities for their continuous support to RINL's growth.

After receiving the trophy, DRM Anil Kumar lauded the initiatives of RINL in fostering relations with the Railways, and hoped that RINL would emerge as a strong leader in the Indian Steel Industry.

President of Visteel Mahila Samiti (VMS) Preeti Roy presented the trophy to Mr. Anil Kumar in the presence of railway officials.

Anju Anil Kumar, vice-president of VMS Sushma Chouhan, and others graced the occasion.

Dinesh of DRM XI was declared best bowler, R. Shankar of DC XI was best fielder, and V. Tirumala Rao of DC XI best batsman.

Maileri from DRM XI was man of the match.