Sampathipuram, near the jaggery-trading town of Anakapalle, in Visakhapatnam District, is a small, obscure village. So small and obscure, in fact, that it doesn't even exist as far as 'Google Maps' is concerned. Its bigger neighbour 'Kasimkota', though, is better known.

The terrain of Sampathipuram is typical of this region: coconut & cashew trees interspersed between sugar cane fields. The dwellings of the prosperous inhabitants have cement roofs and the not-so-prosperous ones have thatched roofs. Despite the heat and humidity any time of the year, more so during summer, the people appear reasonably pleasant and content albeit with nothing much to do.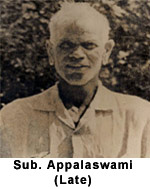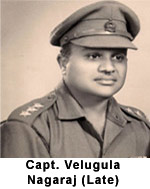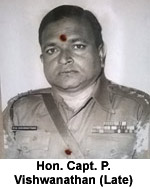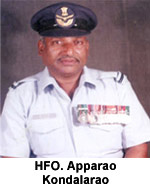 Obscure it may be, but Sampathipuram has a little secret - not a dirty little secret but something to be proud of: for generations the inhabitants of this little village have been sending their sons to join the (formerly British, now Indian) Defence Forces - mostly the Army. Many have fought for their country laying down their lives, some of whom have been highly decorated. There are mounds of earth in battlefields scattered across the globe that will be 'forever Sampathipuram'.

What drives them to do it? Patriotism? Love for adventure? Liking for a good fight? Desire for a better life? That part isn't clear; what is clear, though, is that while a few do visit during active service, most of them never return – forgetting their origins and settling elsewhere in bigger towns and cities. In several households, the yearning of old parents looking forward to annual visits of their fauji children can be seen in their aging eyes.
One such son of the soil was (late) Capt. Velugula Nagaraj (himself the son of Subedar Appalaswany Naidu) who saw three wars during his years in the army and then, and as tradition demanded, passed on the baton to one of his sons – V. Sathya Rao who joined the Indian Army. Unfortunately, Capt. Nagaraj in keeping with the other 'tradition' too, moved on to better pastures and opportunities. Not that Sampathipuram wasn't close to his heart - the land on which the Hanuman temple [one of two prominent structures of the village – the other being a temple devoted to Rama & Sita] is built, was the land where his house once stood, and which he generously gave to the village to build a temple on after the demise of his parents.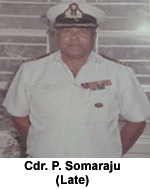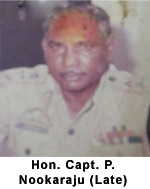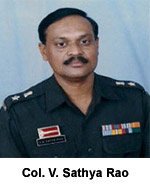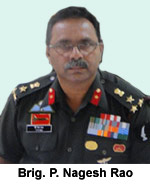 Recently, wanting to do something in his memory, and for the place of their origin, the children of Capt. Nagaraj (Mohan, Hema, Pushpa, Eswar & Col. V. Sathya Rao), decided to build a memorial in the form of an arch at the entrance to the village bearing the name and picture of Capt. Nagaraj on both sides. Plans were put to action and the Velugula family descended on Sampathipuram, from all over India, on 8th April 2014, on the auspicious day of Ramanavami to inaugurate the arch. The event was attended by the entire village including distant relatives.

Apart from the commemoration of the arch, the Velugula family carried out several acts of community service in memory of their parents on this occasion:

Seeing the sorry plight of the school children who had no school uniforms, they sent for two tailors all the way from Bangalore to make customised school uniforms which were given to the children on the day of the inauguration of the arch.

In memory of their mother, Mangarathnam, who was fond of studying as a child, but who could not study beyond the 8th class due to her early marriage, as was the norm in those times, books were distributed to children and a few donated to the empty library.

In addition these spontaneous acts, as a long term measure, the family plans to support the local government school.

Now, no more can it be said that the 'Samurais' of Sampathipuram are 'deserters' who forget their little village. Even if they do, their children make up for it – the 30 foot high arch at the entrance to the village built by the children of Capt Velugula Nagaraj and Mangarathnam, that everyone who visits Sampathipuram has to pass under, is a testimonial to that.

-- M. Pushpa Kumar (neé Velugula)