June 2006
27th June, 2006
JOLLY BOYS VS FUFC
Football fever seems to visit India/Vizag only once in 4 years - around World Cup time. This is not surprising since it is an unstated fact that contact sports such as soccer have generally been played by 'lower classes' with cricket and tennis being more elite sports although few will be ready to admit to this. Anyway, elitist or not, watching Brazil play Australia in the World Cup 2006 the other day brought back memories of a famous match once played in Vizag in the seventies that was spoken about with awe and wistfulness even many years later.

With no TV in Vizag in those days, let alone Cable TV, entertainment was more of the outdoor variety. In one form of this, soccer fans would gather every evening at the playground of St. Aloysius School (the 'field' as it was called) to watch their favourite players who were informally divided into two groups: one consisting mostly of members of the Anglo-Indian community and the other consisting of jalaris and blue-collar workers, or their offspring, mostly from the Fort (Kotaveedhi) area. Gradually this informal division became more pronounced and resulted in a strong rivalry between the two groups. This division between two groups of players was formalised with the setting up of the FUFC (Fort Union Football Club) by the latter group. The former group, now forced to brand themselves, called themselves 'The Jolly Boys'. The FUFC had a small 'pucca' office constructed on the edge of the playground. The Jolly Boys occupied an abandoned WWII pillbox and painted a sign over it.


With both teams claiming superiority, it soon began apparent that this matter could not be decided in the daily skirmishes between the two teams and so it was decided to settle the matter once and for all in a match that would be the mother of all matches. Elders from the two sides decided on a date. The players practiced hard and in all earnestness. The match was the subject of all discussions. The tension mounted as the appointed day drew closer and on the great day itself, was almost palpable. Most of Vizag was there, it seemed, to witness the clash between the two teams. When the match began, supporters lustily and boisterously cheered their players. Both teams fought hard with the referee having to break up several fistfights in between. In the end, the FUFC won.

Later that evening the Captain of the FUFC team was garlanded and taken around in an open cycle-rickshaw with a microphone and loudspeaker, to the cries of 'FUFC zindabad'. The Jolly Boys, thoroughly drunk by now, joined the celebrations and seemed to be having a better time than the winners.

Brazil vs Australia on TV in 2006 might have been interesting but the Jolly Boys vs. FUFC was certainly more fun.

Vizagite4ever
---
16th June, 2006
VENKATADRI VANTILLU: A TASTE OF HOME AWAY FROM HOME
(Inputs by Jyotsna Yedem)
Magic in the making - 'Minapattus'

This is a FAST era. An era of fast kids, fast machines, fast money, fast lives and of course, of fast foods! In these times, Vizagites have seen the growth of many fast food centres like Food Ex, Four Seasons, Pizza Hut, U.S. Pizza, Venkatadri Vantillu… wait a minute! Does that even fit in here?

Venkatadri Vantillu IS a fast-food restaurant, albeit with a difference; the difference being the ultra-fast service of the scrumplicious 'tiffins'. The softest idlis, butter-smooth chapathis, hot-hot pesarattus and the Vantillu's very own special sponge dosas (with unlimited chutney and sambar, if I might add) are all ready within minutes of handing in your token. And unless you take care to enjoy every morsel of food, you would be in a danger of finding your plate empty within seconds and realising that the food has melted in your mouth.
However, a disclaimer for the weight-conscious: Prepare to treat yourself to amazing Andhra food laden with oil and ghee, doled out with a generous hand…mmm…yummy! And all this for very reasonable prices too.
Simply arranged with a few chairs and tables, the comfortable ambience of Venkatadri Vantillu is nurtured by the 20-odd staff who always find time for a friendly greeting and sometimes even for a friendly 'rebuke', if you deserve it!

But what is especially endearing about Venkatadri Vantillu is the genuine I'm-at-home feeling that envelops you just as you step into it. Relishing the famous sponge dosa at the Vantillu one fine day, I observed the strangest scenes. People were walking in, hollering at the kitchen staff. "Hai! Aunty…how are you today?", "Hurry up Lakshmi, I've finished my dosa already!" were a few pleasantries I managed to catch in the homely chaos.

People enjoying the ambience of Vantillu.
To my surprise, the staff gave as good as they got. "Don't you see I'm busy here?" or "Didn't I tell you to eat slowly?" were yelled back at the customers with gusto. Students, bachelors and families alike were rushing in and out, each managing to get in a word with the staff.
Mrs. Indira (Aunty) taking a breather at the token counter.

When I finally got in my own word with the person behind the Vantillu, I realised it was a success story in its own way. And here's how it goes…

Mrs. Indira, driven by a independent spirit, started a small stall near Trinetra in Dutt Island, Siripuram on the 9th of October, 2002, with a small stove and only three snack items. Encouraged by her brother Mr. Gunnam Gangaraju, Mrs. Indira, who now fondly became 'Aunty', tried out her novel recipe of 'sponge dosa' on her regular customers. Once they tasted it, there was no going back. Her customers brought friends who brought more friends and the business was booming. However, new problems arose.
There was such a huge rush at her stall that parking became a problem and Mrs. Indira was forced to close shop after just four months, in February, 2003. Her search for a new place ended when she was given a shed outside 'Abhiruchi Sweets' (which was then in Siripuram), whose owner happened to be an ardent fan of Aunty's special dosas. Just under a year, she was again forced to move when 'Abhiruchi Sweets' moved to its current location in Asilmetta. Aunty's Kitchen then moved to Zen Gardens near Archies. Just when she began to hope that she might finish at least an year in this place, disaster occurred in the name of 'road-widening,' casting her out yet another time, without her ever seeing a single paisa of the promised compensation. After a long search, she opened her restaurant on VIP Road on the 16th of June, 2005 and is finally celebrating its one year anniversary this month.
After listening to her brave and persistent efforts, my respect for Aunty's perseverance knew no bounds. It takes great strength to face obstacles repeatedly…and conquer them with a smile. However, she brushes it off saying 'With the continued help and support of my customers, I owe it to them to keep Venkatadri Vantillu running.' She claims that it is the one thing that keeps her going. The appreciation of one such customer was expressed in this beautiful poem: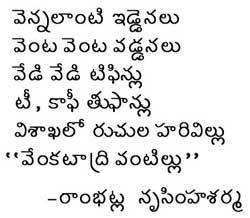 Vantillu keeps the customers coming back for its unique, home-like atmosphere that one cannot find anywhere else.
Finally, before leaving, I couldn't resist asking why it was named Venkatadri Vantillu. Aunty replied, with a chuckle, that the name was chosen in honour of Lord Venkateswara, by none other than the famous music director Mr. M. M. Keeravani, who happens to be a relative of hers.
By the grace of God and the yummy sponge dosa that makes our mouths water, we at VizagCityOnline.com look forward to even more successful anniversaries of 'Venkatadri Vantillu'.
---
1st June, 2006
AN AGONISING 'KORBANI' FOR DAILY COMMUTERS:
Though the port city has been upgraded into Greater Visakha, Visakhapatnam Railway Station is still not big enough to receive and regulate the growing passenger traffic. Because of this very reason, people travelling by the Korba-Visakhapatnam Express are made to wait for nearly an hour more to reach their destination. Those who commute daily from Vizianagaram to Vizag for work and business, board the train at 6.50 a.m. Though its scheduled arrival time at Visakhapatnam is 8.20 a.m. it rarely reaches on time. Though the Express train reaches Simhachalam Railway Station around 7.20 a.m., it moves in fits and starts from there to reach Vizag around 9.00 a.m. After halting at Simhachalam for a while, it runs for about a furlong and halts again near Marripalem for sometime.

This is followed by another brief run and a halt just after crossing the railway over bridge near RP Peta, before it finally reaches Visakhapatnam Railway Station. If it is so agonising for those travelling from Vizianagaram (an hour's run), imagine the plight of long distance travellers, who are being literally forced by the Railways to make a 'Korbani' (Sacrifice) of their precious time. Some wise travellers, who can no longer bear this agonising wait, are getting off the train at Simhachalam to catch a bus or auto to reach their homes in the city from there to save time.
The Railway authorities say that this can't be avoided, as the Korba Express or any incoming train for that matter, should be stopped near the 'outer signal' to allow incoming trains like Visakha Express and the Palasa Passenger to leave the station around that time. The problem is likely to continue till the railway doubling works are completed and more platforms are added at Vizag Railway Station.

Meanwhile, the East Coast Railway (ECoR) has proposed diversion of several long distance trains via Duvvada to ease traffic congestion at Visakhapatnam Railway Station. If this becomes a reality, those travelling to Vizag will be able to reach their destination fast and on time. Till then, they may have to put up with the daily grind.
---
Back