August 2005
22nd August, 2005
RAMAYANA PARK AT VISAKHAPATNAM?
| | |
| --- | --- |
| A theme park on the lines of Disney Land, Akshardham, and Appughar in Visakhapatnam is all set to create news in the country. M. Ramakrishna Rao, the founder of the Shanti Peetham Trust, retired personnel from the Industrial Finance Corporation of India, is the person behind this project. Spread over 100 acres of land outside the city limit, this park will make Visakhapatnam a spiritual hub and a pilgrim centre, besides putting the city on the spiritual map of the world. If the proposal mooted by a few Rama devotees materialize, then in all probabilities a theme park of this nature is bound to appeal to people of all ages. Visakhapatnam would boast of a Ramayana Park, which would be a Cultural and Spiritual experience. | |
Terming it as a cultural and spiritual project, Mr. Ramakrishna Rao says scenes from the Ramayana would be depicted in the theme park in the form of sculptures, frescoes, books, paintings and landscapes. There will be conference halls to promote seminars on spiritualism and cottages to lodge tourists and pilgrims. Besides, an encyclopaedia on Rama would be compiled comprising of anecdotes from scriptures.

The project is estimated to cost Rs. 5 crore, and some who have enrolled themselves as members of the Santhi Peetham Trust, have opened their account in Andhra Bank, Waltair Branch, to muster funds. Donations are welcome for this project. All donations are exempted from tax.

The Simhachalam Trust Board has accepted the proposal for grant of land in consultation with VUDA. The ownership of the land will lie with the Devasthanam alone and VUDA would take up the pilgrim development project on the hill top road. This park being different from the ones in Vizag will revitalize our belief in the Hindu mythology and motivate people towards a better life.
---
17th August, 2005
KRUSHI ORTHOPAEDIC WELFARE SOCIETY:
The Krushi Orthopaedic Welfare Society is a leading Non Governmental Organisation set up with noble and benevolent intention to assist the feeble, poor and incapacitated. If globalisation and international trade is creating an impact today, non-governmental organisations have also grown to be increasingly influential over the years. The Krushi Orthopaedic Welfare Society is one such organization, but definitely it cannot be surmised merely as 'yet another NGO'. Dr. N.V.S. Kiran Kumar established the Krushi Orthopaedic Welfare Society in the year 1987 with the noble intention of serving those living below poverty line and the physically disabled. This NGO, initially known, as "Image Creations" was later renamed "Krushi Orthopaedic Welfare Society". It has grown notably over the years, for its noble work and assistance provided to the weak, aged and under-privileged section of society.

Dr.N.V.S. Kiran Kumar
MBBS, DNB (Ortho)
New Delhi, MNAMS
The primary aim of this organisation is much beyond relieving the suffering of the poor and promoting their welfare, preserving the environment or providing basic social service. Instead their main focus is on the physically challenged, and as they would like to term, 'differently able' citizens of the world. It is now in collaboration with Bharadwaj Hospital and Poly Clinics, Seethammadhara, Visakhapatnam.
Altruism and voluntarily perseverance is the key defining character of this organisation. Independent of Government help, they have with them a team of professional doctors who have successfully treated post burn injuries, performed tube pedicle grafting of body parts, held health camps and treated orthopaedic related disorders. Not only does this organisation invite people to avail their treatment, but encourage them to interact with each other. A charitable hospital and rehabilitation centre was opened in 2005. The rehabilitation centre has a 24 hour library facility, a computer-training centre, counseling center for the parents of the handicapped amongst other facilities.

People from all walks of life have lent their support to the enthusiastic team of doctors comprising Orthopaedic Surgeons, Plastic Surgeons, Neuro Surgeons, General Surgeons, Physicians and volunteers. The Krushi Orthopaedic Welfare Society hopes to promote social welfare in rural and urban areas for the physically challenged, increase their self-confidence and give them necessary training facility. They wish these people to be self employed with the aid of different self-employment schemes of the Government and the public and hope to create a world without discrimination.
---
13th August, 2005
RETROSPECTION ON THE 58TH YEAR OF INDIA'S INDEPENDENCE:







Today we celebrate the completion of 58 years of a modern and independent nation. From a colonial dependency, India is today a front ranking democracy in the developing world. With all its problems and constraints, India has been able to serve as a model for other aspiring nations wielding together different ethnic communities, languages and culture. Poverty, illiteracy, socio-economic inequity and resurgence of religious chauvinism and communalism have been disastrous and harmful, not forgetting the haunting shadows of natural calamities. However daunting they may be, a resilient and determined India is capable of proving herself successful in any experiment on nation building, reminding the world that here is a nation to be revered.

VizagCityOnline team has met a few youngsters of different age groups to find out their views and opinions on how they perceive Independence Day:

"For about 400 years the British ruled India, till they were forced to give in to India's united effort. I remember this most today and hope we continue to live as one community". Shahana Singh, STD- IV, NCS

"On this day I pay my sincerest regards to our freedom fighters, especially Mahatma Gandhi, all of who sacrificed their lives for independence. Without them, 15th August 1947 would have no significance for Indians". N.Bharghavi, a 2nd year Intermediate student.

"Where is Independence? We do not have Independence till now, though we have achieved it because we are not using it. It is a day when we must pay tributes to our leaders who fought for freedom. I will celebrate Independence Day for the country but not for an individual". S. Padmaja, a Social Work Graduate.

"In our 58 years of independence India became a torch-bearer of the developing world. We became self-reliant in various fields but still we have a long way to go in realizing the dreams of our founding fathers. I feel India has a great future and that future lies with the youth." D.Sailaja Kumari, a commerce graduate.

"I definitely will do my country proud some day and for me Independence Day is a moment of retrospection. No doubt, I will celebrate the day, as it meant freedom for my country. Some young politicians like Rahul Gandhi, Sachin Pilot and many others should take the country forward and make a glorious India" expresses an aspiring Engineer Narendra.

"I celebrate Independence Day on the 15th of August as an Indian- with pride. May this day bring success to my life as well. I will definitely hoist a Flag as every Indian should". -Bhanu Prasad, B.Sc student.

"I look forward to serving the nation through NGOs and other such organisations" P.Sanjeev Kumar, Post Graduate in Psychology.

"It was not a matter of interest, but love for my country. I love my country and I think everyday is an Independence Day for me". G. Rajarao, a Post Graduate in Sociology

For younger generation Independence Day is much more than a mere holiday. They feel Independence Day is a day of introspection for their nation.
---
2nd August, 2005
AIRFIELD EXPANSION PROJECT:
Flying low over Simhachalam hills, the aircraft makes a steady descent towards the Visakhapatnam airfield, a neat little enclosure with three landing strips, set in a perfect right angle triangle etched below. The aircraft aligns itself along the longest strip on its short finals before touch down. A picturesque little airport, surrounded on three sides by the hill ranges of the Northern Circars beckons passengers, welcoming them to the 'City of Destiny'. All three runways are of the World War II vintage and the airfield lies serene, secluded and secure on three sides by the Dolphin, Narva and Simhachalam Hills. While designing this airfield, its location, though wisely chosen from a defence point of view, no thought had been given to future expansion - the architects could not have envisaged the runaway growth of this sleepy little town.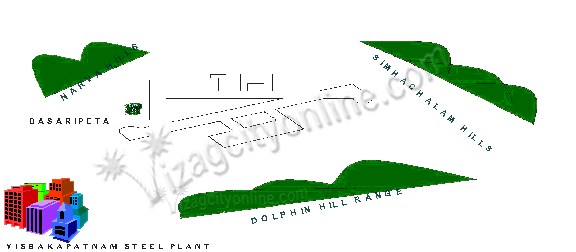 The Visakhapatnam air field
60 years after independence, Visakhapatnam requires a bigger airport to ensure that air travel and accessibility, make a significant contribution to the transport infrastructure of the city. The Golden Quadrilateral (as the new highway project is referred to), East Coast railway and the Visakhapatnam port have been sharing amongst them inflow and outflow of trade and traffic, while air transport trails behind them.

In 2000 the Airport Authority of India with the help of M/S Rites India Limited ventured into a joint survey. Their objective was further expansion of the airfield or if necessary construction of a second airfield that could accommodate wide-bodied jets and more aircraft, marking Visakhapatnam as a port of entry for South East Asia.

The estimated cost of constructing a new airport was Rs 1500 crores. Hence further consultation and cost analysis marked the feasibility of building a new runway with marginal deviation from one of the two existing, unused stretches. A glance at the present layout of Visakhapatnam airfield reveals the three hill ranges of Dolphin, Narva and Simhachalam encircling the area. Extention of the runway in this topography, was impossible with the ranges rising 1000-1700 feet above mean sea level. The only possibility of construction lay between the Dolphin and Simhachalam hills. The Dasaripetta hillock at the foot of Narva hills was the last topographical obstacle lying directly in the approach path of aircraft. Demolition of this hillock, which has withstood the test of time for centuries, was inevitable for development of the airport. No sooner said than done, and now a a colossal project is in progress, which will allow Boeing - 747, Boeing - 767 and Airbus -300 operate from this airport, which had modest beginning with Fokker Friendship (F-27) aircraft.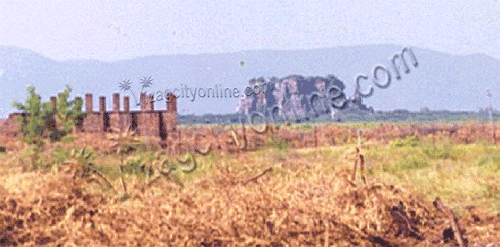 Dasaripeta hill before demolation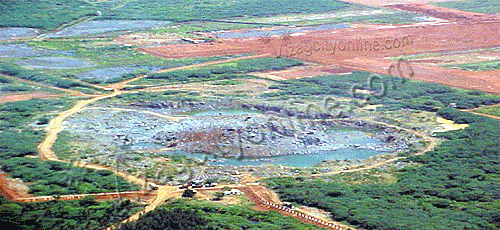 Dasaripeta hill after demolation
This Rs 195 crore project is a joint venture of Ministry of Defense, Air Ports Authority of India (AAI) and the State Government of Andhra Pradesh. The project initially went through some rough weather as there were objections raised by Visakhapatnam Port Trust (VPT) on land acquisition for the project but the matter was finally resolved with timely intervention by then State Government of Andhra Pradesh. Now apart from the new runway, a new integrated terminal is also coming up at an estimated total cost of Rs. 100 crore. "The terminal is being funded by the Airport Authority of India. On completion, the present 6,000 feet landing strip will be replaced 10,000 feet unidirectional runway, equipped with night landing facility, Instrument Landing System permitting all weather operations, a new terminal and an isolation bay for aircraft" said Mr. Suresh, General Manager, Airport Authority of India, Visakhapatnam.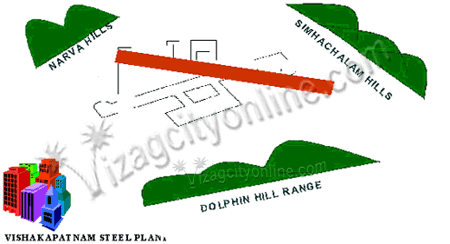 The new Runway
The Visakhapatnam Airport runway expansion project ready to be completed within the stipulated period (i.e. December, 2006)", said Mr. M. Venkat Rao, the Chairman of M/S M.Venkat Rao Engineering Contractors the sole contractor, of this Herculean project. Speaking to VizagCityOnline.com, Mr. Rao said that nearly half of the runway was complete and work on the other half is underway and the massive compound wall construction is also almost on the verge of completion. Mr. Venkat Rao, who has a successful history of undertaking huge contracts, revealed that his company was one among the major contenders for this project. The new terminal will have all the facilities that are essential for a world-class airport. After completion, the new Airport can boast of the capacity to harbour at least six jumbo aircrafts. The present operators, Sahara, Air Deccan, Alliance Air, Jet Airways and other airlines will be looking upon this city no more for transit halts but we hope reschedule their flights to cater for a larger traffic.
Back