Vizag's culture is fast evolving from that of a small and sleepy fishing village to one of a fast-growing industrial hub that yearns to acquire a cosmopolitan veneer.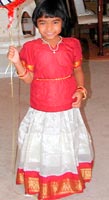 Like all such changes, this one comes with its pros and cons. Rather than making a vain attempt to discuss all these factors superficially, we take note today of one particular aspect of this metamorphosis-the new items in the collective wardrobe of Vizag's women.
Virtually vanished is the process whereby a young girl was first outfitted in a langa-blouse, then graduated to a langa-vani, and then finally moved up to the matron's sari. Today, the female sex is attired in a medley of clothes, ranging from the North Indian salwar kameez to trendy (at least by Vizag standards) western wear like jeans and t-shirts. While the sari remains popular with most older women, the langa-jacket and half-sari have been seen off by a variety of North Indian dresses and western togs.
As mentioned above, traditional Andhra culture had a few specific clothes for girls depending on their ages. Young girls wore a langa-jacket. This is essentially a simple, but often colourful, skirt and blouse ensemble. The fabric for this garment is sold in matching sets for the top and bottom components. Once girls reached puberty, they had to start wearing langa-vanis. It was customary for girls from the ages of 13-19 to wear this. This item of clothing comes in three pieces-the two parts of the langa-jacket over which was worn a sari, only in such a way that it did not entirely cover the langa. Some just call this dress a "half-sari". Strictly speaking, this dress consists of four pieces, as modesty and propriety require an underskirt beneath the outer drawstring skirt. The sartorial summit, so to speak, was gained once a woman got married and started wearing a (full) sari. This custom also explains the slightly older woman one occasionally saw wearing a half-sari-she was not trying to act young: the poor creature had simply not yet managed to get hitched.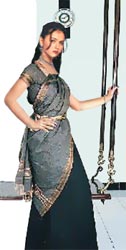 Until a few years ago, the half-sari besides being the traditional dress, was also the most popular dress of young girls in the city. There was no dress that belonged so exclusively to the budding young woman and few women past their teens would wear it. "It is very elegant and something that mothers and grandmothers wanted you to wear, especially at weddings," says Radha, an undergraduate student in the city. The half-sari thus represented the transition from the langa-jacket to the sari, from girlhood to womanhood. It prepared a young girl for the more cumbersome nine yards, or the more modern six meters, of a regular sari.
The young women of Vizag attempt to exude confidence and poise as they walk down the road, commute to work, or even jostle against each other in crowded college corridors. On college campuses, jeans and the salwar kameez can be seen everywhere. An entire generation of women have taken to western and north Indian attire, exactly like their counterparts from other cities. The langa-vani hardly appears to be remembered let alone missed.
The salwar appears to have cut across age and class barriers to become the most widely worn dress in urban India. Among the very young, it is challenged in popularity only by jeans and t-shirts. In fact nowadays even ghagras, shararas and lehenga-cholis have become more popular than saris as wedding or party wear. True, dresses such as the salwar-kameez are convenient, modest, economical and above all, very (North) Indian. But why is it that the half-sari seems to be disappearing altogether? Why has a dress that has held its own for (we assume) hundreds of years literally disappeared over less than a decade? It is not as if the half-sari was particularly inconvenient. It also had the advantage of letting a young girl, her half-sari draped over the blouse and with one end tucked into the lehenga, have the freedom to gambol around while at the same time teaching her to be more conscious of herself and her dress. No longer-now we have nine-year-olds dressing not very differently from their grandmothers. Well, at least we are not yet as bad the Americans, dressed as the majority of them are like grossly overgrown infants (baggy shorts and crumpled t-shirts are a national uniform there).
We also mourn the passing of the half-sari in Vizag because it represents the burgeoning blandness brought about by the homogenization of tastes and fashions throughout the country and, for that matter, the world. No longer does each region of the country appear as a particularly distinctive entity (at least, speaking of the larger towns and cities). Every other teenager sports a pseudo-American accent (guaranteed to bewilder a real American-though it must be conceded that they are a people easily bewildered by anything even slightly unfamiliar) and every other cable channel shows large groups of people jerking spastically to the accompaniment of loud music. As "old fogies", we find this growing lack of individuality most distressing!
Even though the sari itself remains popular, it is now frequently being reserved for special occasions--go to a wedding, and rarely will you see women wearing any thing other than a sari.
Responding to a few questions from our staff, many of this fair city's young girls said they did not possess even one half-sari outfit. Even those who owned one confessed they rarely wore it. When asked what they thought of the half-sari, many girls were surprisingly vociferous in denouncing it. Nandini, 18, stated, "To be honest, I feel half-saris belong to a previous century. Never in my life will I wear one."
A few girls said they liked the dress but found it inconvenient. "I am a professional so I have to make sure that I am dressed in a professional way, and I don't think langa-vanis are more a uniform kind of thing. I would have worn it but nowadays the trend has mostly changed to modern clothes like shirts, pants, jeans, that sort of thing," said one woman with a reputed telecom company in the city. "It is hot and humid all-most all year around in Vizag. Wearing silk saris or long langa-vanis is not really comfortable and even in tradition bound societies like ours, women want comfort more than convention these days," says Mrs Lakshmi, a housewife. Obviously, the half-sari will soon survive only in faded photographs of the older generation and the flickering frames of older movies.
However, it is somewhat comforting that most Indian dresses have held their own against the onslaught of western apparel. The venerable sari keeps being "discovered" every few years by European couturiers and still retains pride of place as formal Indian wear. Says Shanti, an undergraduate in a city college: "The sari makes even the most ordinary woman look exotic, traditional, cultured and beautiful." And all agree that the sari can be worn to emphasize one's curves or to hide one's flab.