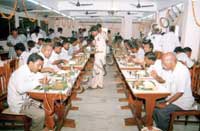 If it's time to eat out in Vizag, it's not for the usual big names like Dolphin or Daspalla to take the cake anymore! Driving down to places with names that ring familiar and mean big business aren't the order of the day anymore, with an increasing number of eateries mushrooming in the city within the past few years.
People have now woken up not just to the concept of Western fast food, but to the concept of carry-home north or south Indian style food parcels as well - however much you con yourself into believing that we've all changed oh so much, no true Vizagite could ever resist dear old sambhar-annam or perugu-annam.
Considering the mindset of teenyboppers and white-collar workers, we tried taking a closer look at the customers pouring into three major food joints in the city. We picked up Kamat, the popular takeaway centre, Nellore Mess, a famous South Indian restaurant and Pastry, Coffee and Conversation, a new joint on the block raking in the moolah selling fast food and coffee.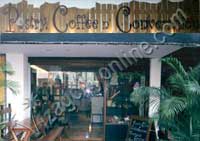 Pastry, Coffee and Conversation (PC'nC in popular parlance), which was established in November last year, sports delicate interiors and offers a wide variety of yummy confectionery. The place turned out to be a runaway hit since inception, a joint where those on the wrong side of forty could rub their shoulders comfortably with Gen-X, sipping the varieties of coffee on offer. The interiors lend the place a sense of warmth where the Chauhans welcome the guests with an informal air.
PC'nC has been conceived of by Mr and Mrs Chauhan - while the husband handles the administration, wife Abha's culinary expertise draws a steady trickle of customers who love to savour her desserts and patties. The best part is that the place gives value for money. The pastries and cookies are just as delicious as the pizzas, sandwiches and burgers. And of course, there are a wide variety of coffees to wash them all down.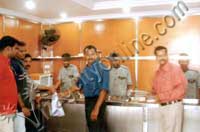 Kamat, with its three outlets in the city, has been in business for the past three years. They specialise in non-veg dishes, mostly different types of curries and biryanis. One could vouch for the quality of food here, with rare delicacies like turkey sold here a few times every week. Kamat targeted working people when it began, and working couples who have no time to slog it out in the kitchen after a hard day's work find the readymade chicken, mutton or seafood curry parcels a handy and affordable solution.
Kamat is open both for lunch and dinner. However, it's not just working people, but youngsters as well who keep buying food parcels from here. Karan, a 17-year-old student says, "The food here is good. My friends and I often take nights out or wheeze off to Rushikonda. At such times, it seems a better and more feasible option to pick up food from here than from home. It's not too expensive and tastes good, too."
Kamat also caters to parties and weddings and have provisions to serve food to about 5000 people at each occasion. Mr KVS Raju, who runs the place, insists on quality and customer satisfaction, which, he believes, has brought him success.
The Nellore Vari Mess, which was started in 1989 by Mr Venkateshwarlu, specialises in the authentic Nellore cuisine experienced a meteoric rise to fame. With an A/C and non-A/C restaurant to boot, the mess caters to a range of customers, from college-goers to tourists to working people, all of whom love their typically veg South Indian fare. You pay Rs 25 each for regular thalis comprising 10 items and Rs 40 for special ones, and that is just about as good as it gets - the customers remain happy.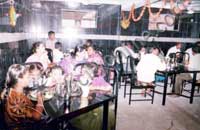 The Nellore Vari Mess has no branches, the owner informs, yet its teeming number of clones across the city are no match if you have to have a taste of the best. NVM also has a tiffin centre next to the restaurant - one that opens at 6 am and closes at 11 pm. The lunch thalis (meals) are on offer between 11am to 4 pm and dinner thalis (meals) between 7 pm to 12 am. NVM also caters to weddings and special occasions, we were told.
It is the raging popularity of the fast food joints that makes the business thrive, showing how Vizagites are taking to western and Indian dishes like ducks to water. The concept of fast foods is in - even in its Indian avatar in which case the packaging and marketing styles have changed, the stuff being sold now from the city's umpteen takeaway outlets. Quality seems to be the keyword in the F&B business in Vizag, and with Gen-X taking the lead, could their predecessors be left behind?
The locations:
Pastry, Coffee and Conversation - Dutt Island, Siripuram.

Kamat - Vuda Complex, Siripuram; Dwarakanagar Main Road, Opposite Titan showroom and Lawson's Bay Colony

Nellore Vari Mess - 30-12-38, Ranga Street, opposite Hirawat, Dabagardens.